Do you want to know what fashion lovers will wear this year? You are in the right page because we have prepared for you an article about the biggest fashion brands for 2019. You will see many designs, colours, motifs, fabrics and special combinations.
If you want to get a taste for fashion 2019, then you can be inspired by the street style collection in Paris, the fashion capital, to create unique outfits in your turn and to distinguish your style and taste!
The new season 2019 arrives and according to famous fashion houses some of the main trends remain at the top of the options.
Options such as transparency, romantic dresses with lace, plaid, and animal print – leopard will be worn much this season.
However, there are some new additions to the list of trends that will surprise us or please us. For example, it seems that the '90s inspired many renowned designers and their features will make their presence felt in the spring and summer wardrobes of everyday fashion lover.
Another special stylistic proposition for this season is the riding bikini shorts that are even combined with a jacket.
But what are all the fashion trends that will flood the streets the following months?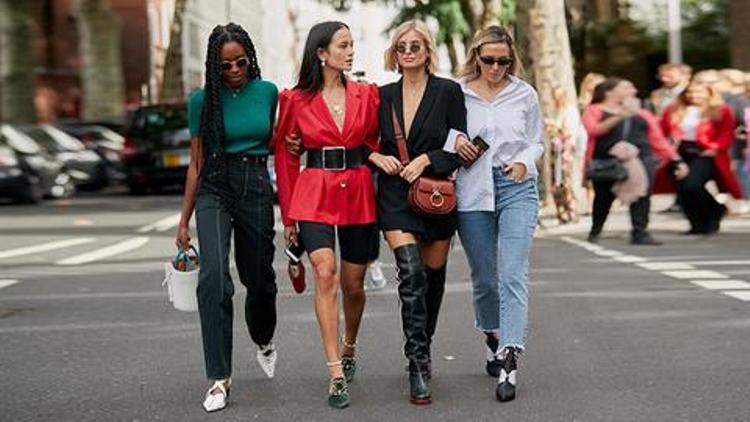 The following list will reveal the top trends in fashion for Spring and Summer 2019:
Keep in mind that when you follow fashion, the purpose is not always to be sexy, but to look outward to a complete look that is impressive or elegant or even serious. You always bring fashion to your liking, and that's the motel that the great fashion houses send for 2019.
Fashion from the wild west
The style of cowboy returns dynamically to this year's fashion trends. To put it in your wardrobe, you can choose to wear similar boots, or plaid shirts and hats.
If you have learned to turn your trousers inside out, now, it changes from now. You have to learn how to show the trousers you wear, whether they are bell shape, skinny or boyfriend.
2019 fashion loves geometric shapes
The geometric shapes were more accustomed to jewellery such as pendants and impressive earrings. In 2019, however, fashion adds geometric shapes to other accessories such as sunglasses, bags and even the clothes we choose to wear.
Aerial dresses and jumpsuits

We have seen them last spring and summer, but 2019 fashion will shout loud "aerial dresses!"
This trend became very popular not only by fashion bloggers and influencers, but also by women who finally saw that they are not just wearing the upright midi dresses (up to the ankle) but will finally have comfort through the dresses.
The white creations with front buttons are the ones that took our breath away, and we can only be very happy about it, as it is a statement of timeless remembrance that reminds of the past decades and we can wear it as we want and highlight it with jewellery which express us most.
Patterns and patterns
The combination with different patterns and fabrics is more in than ever!
You can wear satin long dresses with fabric T-shirts and be cooler than ever! The same goes for lacy clothes that you can carry with linen pieces of your wardrobe. If you love maximalism, then 2019 will be a great year for your stylistic appearances!
Army colours
If you are wondering which colours will be worn more in 2019, then the biggest dominions are army green and all its shades.
So, you are given the opportunity to bring back all military jackets and trousers from your collection, a great comeback that we look forward to incorporating into the outfit we will be doing!
Animal prints
Animal print is a single category for the year 2019! This is the biggest trend of the year, and you can choose it in top, dresses or even high heels for evening performances.
Street style has become just as major as the runway shows themselves. Womens clothing has changed and offer a big variety of choices, to make every woman feel like a woman!